Cool puppies know rest time is the best time.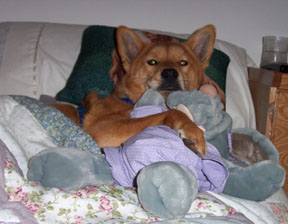 Amber being lazy
After all that work and play, it's time to go to sleep for the day.
Isn't funny, how, dogs can sleep all the time. I mean to go from bouncing off the walls to a sleeping puppy in a matter of seconds is spectacular. I guess that's why Energizer used a rabbit instead of a dog in there commercials. I mean they would have to change their slogan from "It keeps going, and going" to "Non-stop energy for only a few minutes".
Anyways, Amber must have it tough because she sleeps most of her day away. She sleeps all night, then in the morning after I get up she sleeps until I take her out, then again after I go to work. The worst part of all this-is she snores so bad sometimes it keeps me up at night. My only entertainment is her dreams when she kicks her little legs and woofs a way. I always wondering what is she dreaming.
If you haven't noticed by now this dog is spoiled. She went from sleeping on cold concrete to a plush bed full of pillows I bought just for her. I thought by buying several pillows she would at least let me have one but that is not the case. She always wants the same one I'm using and the same side of bed I'm using. I have a queen sized bed but I am almost falling off at night because my dog wants to squish up against me.